Jordan Hoffart has set a new record for the longest ollie, 16.5 Feet!
Read More
Kevin Reimer and Byron Essert in the Alps
Read More
Jordan Hoffart puts together a line for the record book
Read More
Watch Brad McClain's "Die Hard" video NOW!
Read More
Bones Bearings Speed Cream teams up with Daddies to keep you rolling fast and smooth.
Read More
Thrasher Magazine put together an awesome video of Lance Mountain for his birthday
Read More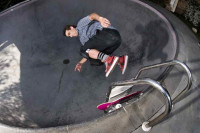 2014 Inductee, Lance Mountain, celebrating his birthday tomorrow.
Read More