Kevin Reimer and Byron Essert in the Alps
Read More
Jordan Hoffart puts together a line for the record book
Read More
Watch Brad McClain's "Die Hard" video NOW!
Read More
Thrasher Magazine put together an awesome video of Lance Mountain for his birthday
Read More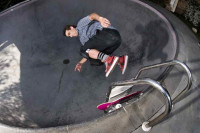 2014 Inductee, Lance Mountain, celebrating his birthday tomorrow.
Read More
Bobby Worrest for Krooked Skateboards
Read More
Supra Footwear put together this insane "Best of Boo Johnson" edit.
Read More
Chris Colbourn ripping at N Hollywood Skatepark
Read More