Blog
Lazer Crawford throws on a new sheet of grip then gets to ripping in this MOB Grip edit.
Read More
Dennis Busenitz sat down with Route One for an interview.
Read More
Urethane released a music video for their recently released song, "Gravity." Steve Caballero on the guitar.
Read More
Click in to watch Chris Hiett at Woodward West with the Powell-Peralta Vallely 'Elephant' Reissue skateboard.
Read More
A minute with Jhancarlos Gonzalez at La Puente Skatepark.
Read More
Thank You Skateboards welcomes David Reyes with this heavy-hammer filled video.
Read More
Andy Anderson's "You Should Know" segment from Issue #2 of iDabble VM.
Read More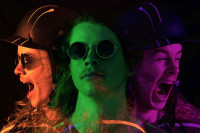 Andy Anderson interviewed by Jim Murphy for JUICE Magazine.
Read More
Thrasher released "GROW," a video featuring Gabriel Fortunato and Wacson Mass.
Read More
NKA released the raw footage from Andy's 30 Stair grind.
Read More