Blog
Walker Ryan explored Wilshire Boulevard and made a video part out of it.
Read More
Thrasher released Sebo Walker's part from SK8RATS' "Pump on This" video
Read More
Jorge Simões is really good. Check out his new video part for Volcom
Read More
TJ Rogers presents BIG BALLS, the newest addition to our collection of Skate Rated bearings.
Read More
BIG BALLS. Byron Essert has them. Ask for them by name.
Read More
Monster released two mini-doc videos featuring Nyjah Huston & Lizzie Armanto
Read More
SK8RATS presents a Chris Blake 'VX Treat.'
Read More
Arthur Cardova, new video part on The Berrics.
Read More
Chris Cole jumped in on this Battle Royale at The Berrics
Read More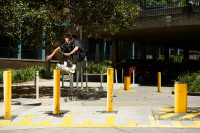 Donovon Piscopo has an interview up on Thrasher
Read More