Blog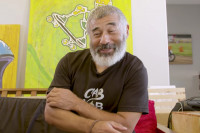 Steve Caballero talks about his favorite skater with TWS
Read More
Bobby De Keyzer's part from Blue Tile Lounge's "Baby Blue" video just dropped!
Read More
Chris Colbourn works his magic in "Toxic Planet"
Read More
Marcos Montoya came through with one hell of a #DreamTrick
Read More
Alex Midler & Alex Sorgente got in on a 'Battle Royale' at The Berrics with Milton Martinez.
Read More
TJ Rogers got his "Ninja Training" on with Gustavo Ribeiro at The Berrics.
Read More
Creature Skateboards has officially announced Cody Lockwood as their newest member to the horde!
Read More
Watch LA native, Ethan Singleton, cruise around town
Read More
Spencer Hamilton, new shoe and video for Supra!
Read More