Blog
Collin Slew puts some Super Swiss 6 to work for Jkwon Sundays
Read More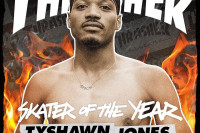 Congratulations to Tyshawn Jones for winning Skater of the Year!!
Read More
Oscar Meza skates Bones Swiss Bearings because they are the best.
Read More
Nyjah Huston's "NEED THAT" video part is now playing.
Read More
Deedz' "HVVS" part is up on Thrasher.
Read More
Tune in for a full day with Andy and Nigel.
Read More
Another hammer filled video part from Nyjah.
Read More
Ryan Decenzo skating across a river gap in the snow.
Read More