Blog
Evan Smith in Element's "PEACE" video. This is an instant classic.
Read More
New video part from Corey Duffel! On Thrasher Magazine
Read More
It's hard to believe that Nyjah did these 13 tricks in just 14 tries at The Berrics
Read More
Matthew Pierre's "Video Check Out" for TWS is sick
Read More
Jake Ilardi went to The Berrics with a Dreamtrick in mind, but did his dream come true?...
Read More
Chris Joslin's new video to go with the announcement of his Pro Shoe for etnies!
Read More
Gavin shows 'Hot Wheels' what "Challenge Accepted" means to him!
Read More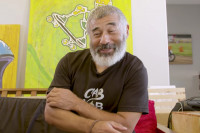 Steve Caballero talks about his favorite skater with TWS
Read More
Bobby De Keyzer's part from Blue Tile Lounge's "Baby Blue" video just dropped!
Read More
Chris Colbourn works his magic in "Toxic Planet"
Read More