Blog
The Powell-Peralta crew set up this school yard mega ramp for some extracurricular activities.
Read More
Check out New Balance's "String Theory" Case Files featuring Davis Torgerson.
Read More
Mario Realegeno is a LA native and skates some unique spots in Los Angeles.
Read More
Andy Anderson rips in this new Powell-Peralta 'Raw Clips'
Read More
This video of Ben Hatchell is accurate to how talented and effortless his skill set is when it comes to skateboarding.
Read More
Free Skateboard Magazine's "Memory Screen" of John Cardiel is up!
Read More
Charlie Blair and Landon Belcher battle Mother Nature while everyone else at the session enjoys the show.
Read More
Simon Stricker cruising around the streets of Zurich, Switzerland.
Read More
A Friday night at El Sereno Skate Park with Christian Dufrene and Kris Brown.
Read More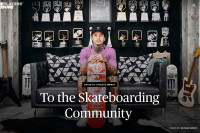 The Players' Tribune released an article featuring Nyjah Huston.
Read More