Blog
Nate Greenwood and Ben Campbell had a session skating the hidden gems at The Berrics.
Read More
Shawn Hale's "Beautiful Mutants" part for Birdhouse is one of a kind.
Read More
Congratulations to James Capps for releasing this video to go with his new Lakai colorway!
Read More
Over 2 minutes of Mark Suciu footage for Thunder Trucks
Read More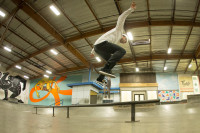 Matt Berger went with a difficult trick for this "He Could Go All The Way" video at The Berrics
Read More
John Shanahan came through with a new batch of footage for DGK
Read More
Sebo Walker & Brett Sube join forces to bring their heat to the LA streets
Read More
Take an inside look at Matt Berger's rehabilitation after knee surgery
Read More
Tommy Guerrero checks in with Chico Brenes. Scope the video.
Read More