Blog
Martin Pek came out to LA from Prague and skated a few famous spots.
Read More
iDabble VM released nearly 40 minutes of raw & unedited footage from their day with Andy Anderson.
Read More
Transworld Skateboarding presents, Christian Dufrene in "It's All The Same."
Read More
8 minutes of Nyjah destroying The Berrics.
Read More
Welcome back to the team Dashawn Jordan
Read More
The Berrics released a 'Field Notes' video with Austin Heilman.
Read More
Nike SB presents 'Inverted with Lance' featuring Lance and Donovon Piscopo.
Read More
Unsanctioned Game Of S.K.A.T.E. between Dan Mancina & David Reyes.
Read More
New Nate Greenwood video part up on Thrasher!
Read More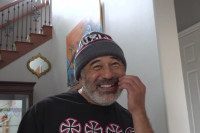 Raw footage from iDabble VM's tour of Steve Caballero's home.
Read More