Blog
Bucky drives special guest and skateboarding legend Steve Caballero up to the grand re-opening of the Huntington Beach Vans skatepark.
Read More
Click in to watch Andy rip at Chevy Chase Skatepark.
Read More
Sebo Walker's "SNAPPED" video part, now playing.
Read More
Ethan K. Singleton skates Bones Swiss Bearings because they never let him down.
Read More
The Nine Club's 'Episode 214' with Ryan Decenzo is now playing.
Read More
Mobbin around UCLA with Shay Sandiford.
Read More
Jiro Platt's "Time Traveling" part is playing on Thrasher.
Read More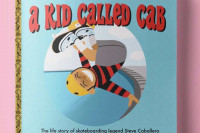 "A Kid Called Cab" by Steve Caballero and HE Creative.
Read More
Tore Bevivino keeps his Bones Swiss Bearings lubed up with our speed cream to make them last longer than any other bearing.
Read More
Gavin Bottger's 'Scuddle' video is now playing on Thrasher.
Read More