We're running a BIG BALLS giveaway on our YouTube channel. Winners are chosen on June 5th, 2019.
Read More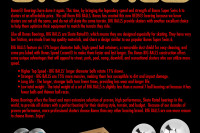 We're excited to announce the release of our new Bones® BIG BALLS™!
Read More
Cody McEntire skates Cherry Park in Long Beach, California and talks about why he likes Bones Swiss Bearings
Read More
Neal Hendrix skating Tony Hawk's ramp
Read More
Brad shares his thoughts on Powell-Peralta #FlightDeckConstruction
Read More
Steve Caballero shares his thoughts on our Flight Decks
Read More
Here are some tips and steps on how to clean you bearings
Read More
David Reyes put a new set of Bones Swiss Bearings to work at the Manhattan Beach Skate Park
Read More
Justin Adeniran skates some classic, as well as, new skate spots in Philadelphia and D.C.
Read More
Ryan Decenzo talks about Bones Bearings and then cruises around Stanton Skatepark
Read More