Episode 12 of GABRIELIFE in Sicily, now playing.
Read More
Niels Bennett video part. Presented by Free Skateboard Magazine.
Read More
Andy Anderson raw & uncut at Santa Monica Curbs with NKA.
Read More
Lizzie Armanto, 'Followed' by Pocket Skate Mag.
Read More
Shay Sandiford wrapped up 2022 with this video part.
Read More
Collin Slew puts some Super Swiss 6 to work for Jkwon Sundays
Read More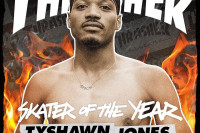 Congratulations to Tyshawn Jones for winning Skater of the Year!!
Read More
Oscar Meza skates Bones Swiss Bearings because they are the best.
Read More