Blog
Evan Smith's Rough Cut of his Time Trap part is live
Read More
Evan Smith has gifted us with a new video part. Time Trap!
Read More
Video recap of some Bones Bearings guys from Tampa pro last year
Read More
Here's an edit from a recent Bones Bearings Team trip to Florida.
Read More
The Maloof Money Cup is back in South Africa this weekend.
Read More
This is an Evan Smith montage from Tampa Am 2011.
Read More
Chris Ray had the best section mainly because he had Evan Smith in his part.
Read More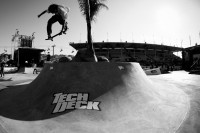 It seems like just yesterday I met the skinny little kid at the young age of 14 at a trade show in Orlando. Fast Forward 5 years later and now he's bigger than me.
Read More