Blog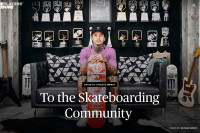 The Players' Tribune released an article featuring Nyjah Huston.
Read More
8 minutes of Nyjah destroying The Berrics.
Read More
Monster released two mini-doc videos featuring Nyjah Huston & Lizzie Armanto
Read More
Voting for The Berrics' 'Populist' 2018 has begun.
Read More
It's hard to believe that Nyjah did these 13 tricks in just 14 tries at The Berrics
Read More
The Berrics presents, Nyjah Huston, behind the 5-0 photo
Read More
WOW, skating handrails is not the same anymore. We're happy you made it out of this one in one piece, Nyjah.
Read More
A day in the streets with Nyjah Huston, who's currently working on a new video part for Element
Read More
Watch and score Nyjah Huston's Run & Gun on The Berrics
Read More
Nike has welcomed Nyjah Huston to their crew
Read More