Blog
Join the Girl/Chocolate guys for some Downtown LA mayhem
Read More
Back in classic form, Sean Malto kicks off the Nike SB Elite Squad video series
Read More
Video recap of some Bones Bearings guys from Tampa pro last year
Read More
Since Copenhagen Pro is coming up this weekend, here's an edit of Bones Bearings Team Riders from a past Copenhagen Contest.
Read More
Sean Malto skates with smooth buttery style and looks like he is not even trying when he skates.
Read More
Happy Birthday to team rider Sean Malto.
Read More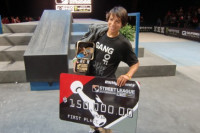 The second stop of Street League just went down this past weekend in Ontario, CA with Bones Swiss Bearings team rider Sean Malto taking first place and winning $150,000!
Read More