Blog
Vincent Alvarez x Dickies 'Great DIY Adventure' now playing on Thrasher.
Read More
Yonnie Cruz & Vincent Alvarez for the Lakai x Theories collection.
Read More
Join the Girl/Chocolate guys for some Downtown LA mayhem
Read More
Crailtap's Weekdays Skater of the Year is, Vincent Alvarez!
Read More
Vincent Alvarez, new truck for Royal and a video to go along with it
Read More
Since Copenhagen Pro is coming up this weekend, here's an edit of Bones Bearings Team Riders from a past Copenhagen Contest.
Read More
The longest running and best professional skateboarding contest kicks off next week.
Read More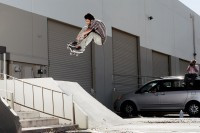 Bones Swiss Bearings is proud to announce new pro, Vincent Alvarez to the team.
Read More
Bones swiss team rider Vincent Alvarez is now pro for Chocolate Skateboards!
Read More